Packing Mouth-Healthy Lunches for Kids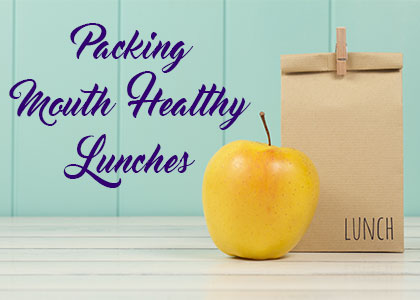 Breakfast is always being touted as the most important meal of the day—and for good reason! It's important for families to kickstart their day with nutrients that will help them power through school, work, socializing, sports, homework… does anyone else feel exhausted just thinking about it all?
The right foods in your child's lunch can help boost their energy and keep those brains, bodies, and mouths going all day! Alternatively, lunches full of sugary, sticky, acidic foods and beverages can accelerate tooth decay and cause your child to feel sluggish both physically and mentally.
Calgary Dental House loves to share ideas on what to include in your child's lunch to keep their smile safe and their health optimal… and perhaps what to leave out and have as an occasional treat for good behavior.
But First, Hydration
About 65% of a child's body is made up of water (60% for adult men, 55% for adult women), and it's important for this balance to be maintained. Water is the best choice for hydrating for the following reasons:
Water tends to be neutral instead of acidic or alkaline, which makes it safe for the teeth.
It helps prevent dry mouth (xerostomia), which creates a breeding ground for dangerous, decay and gum disease-causing bacteria.
Being adequately hydrated helps aid proper digestion.
Water regulates body temperature.
It helps deliver oxygen throughout the body.
Keeps joints lubricated and is a shock absorber for the brain and spinal cord.
Flushes waste from the body, mostly through urine.
Encourage your child to keep their mouth and body healthy by sending them to school with a refillable water bottle rather than a bottle of juice or soda.
Now for the Flavor
You probably guessed that your Calgary dentists would recommend fruits and veggies, right? There are so many tasty options, and their vitamin and mineral content makes them an excellent choice for both oral and overall health. Our favorites are:
Apples
Oranges
Limes
Kiwis
Cantaloupe
Papaya
Strawberries
Each of these fruits contains vitamin C, which can help kill bacteria and promote a healthy supply of collagen in the gums. We do suggest your child waits for at least 30 minutes to brush their teeth after eating fruits because the citric acid combined with brushing can weaken tooth enamel and cause erosion. (Everyone should wait 30 minutes to brush their teeth after eating, but especially with highly sugary or acidic foods and drinks.)
Veggie Time
They may not be your child's favorite, but veggies are full of goodness for mouth and body health. The following choices naturally scrape away plaque that can build up between meals or be missed when your child brushes:
Carrots
Celery
Cauliflower
Green beans
Snap peas
Spinach
Cucumber
Sandwiches & Snacks
If you've been wondering: "What about protein?" we've got you covered. We recommend using whole grain wheat bread and enamel-building meats like chicken and turkey. Including cheese will help your child get calcium, vitamin D, and phosphate, too. You can also go with the classic PB & J!
Hard-boiled eggs are another good source of protein. For more fiber, folic acid, iron, vitamin E, potassium, and zinc, add nuts like almonds, cashews, and walnuts, as well as sunflower and pumpkin seeds!
We know it can be a bit more difficult if you have picky eaters at home, but these foundations are good to keep in mind. At Calgary Dental House, we love to find recipes that some of these ingredients can hide in, ensuring our young ones get the health benefits without even knowing it!
A proper diet will go a long way toward keeping your child's smile healthy, but it's still important to bring them in for thorough cleanings and cavity prevention methods. We love seeing their smiling faces, too, so contact us today to schedule an appointment!
The content of this blog is not intended to be a substitute for professional medical advice, diagnosis, or treatment. Always seek the advice of qualified health providers with questions you may have regarding medical conditions.